2015 Haunted Houses & Attractions in Montgomery
The quick and easy way to find all the exciting Halloween attractions in the Montgomery area for 2015! Halloween is just around the corner, and if you're looking for some spooky fun then you've come to the right place. We've put together a list of local Montgomery haunted houses, hay rides, spook walks, and more for the scariest day of 2015! Check out all the attractions below - there's something for everyone!
Located in Killen
256-757-0108

USA TODAY named Arx Mortis of Killen, AL among the top ten haunted attractions in the country in 2014.

Located in small town Killen, Alabama, Arx Mortis is a 50,000 square foot indoor attraction that features movie quality special effects and sound, a cast of nearly 100 horrifying live actors, as well as professional animatronics. This tightly themed attraction immerses visitors comp... Read More

Located in Fultondale
205-913-4506
Closed today. Next open 9/25/15

Once you have entered the halls of Terror Within you may feel like there is a cloud of fear looming all around you. As the door shuts, you are thrown into the darkness to feel your way through all the twists and turns as our misfits are closing in on you with each step you take. Hopefully you can make it out before the terror sets in and you become a hostage like so many before you.

T... Read More

Located in Greenville

Closed today. Next open 9/25/15

Founded in 2003, the Greenville Haunted Firehouse is the brain child of the firefighters of Greenville, Alabama. Grown through hard work and passion for the scaring every soul that enters the house, the men and women of this haunt crew spend all year preparing for the scare season. Read More
Halloween 2014 MontgomeryHauntedHouses.com attracted over 2,405 visitors.
A 252% increase from 2013...
More...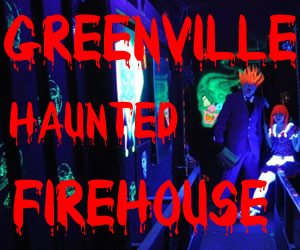 Featured 2015 Halloween Events
Montgomery Halloween Events
Halloween event list including haunted houses, corn mazes, hayrides, spookwalks, home haunts, and more.